Etika Bisnis Islam Pedagang Sapi dan Dampaknya terhadap Kesejahteraan Pedagang di Kecamatan Masbagik Kabupaten Lombok Timur
Abstract
This research aims to determine the Islamic business ethics are implemented and their impact on the welfare of caw traders in the Masbagik districts of East Lombok Region. The method used is descriptive qualitative research with field research type (field research). This research results found that of the study of of Islamic business ethics implemented by cow traders in the Masbagik districts do not yet fully apply the principles of Islamc business ethics, while from a study of the impact of Islamic business ethics towards welfare, not all cow traders in the Masbagik districts of east Lombok region get Islamic welfare because it has not fulfilled the needs dharuriyatnya (prayer and pilgrimage). they had a good life partially. Because it can meet the needs dharuriyatnya. They have said happy, because it has been grateful on rizqi received.
Keywords
Etika Bisnis Islam; Pedagang; Kesejahteraan
References
Afzalurrahman, Muhammad Sebagai Seorang Pedagang, Cetakan ke 4, Yayasan Swarna Bhumy, 2000.
Arifin, Johan, Etika Bisnis Islami, Semarang: Walisongo Press, 2009.
Aziz, Abdul, Etika Bisnis Persfektif Islam. Bandung: Alfabeta, 2013.
Badan Pusat Statistik (BPS) Kabupaten Lombok Timur, Lombok Timur Kecamatan Dalam Angka 2015. Lombok Timur. Diambil tanggal 15 Juli 2016.
Bertens, K, Etika, Jakarta: Gramedia Pustaka Utama, 2000.
_________(2005). Etika, Jakarta: Gramedia Pustaka Utama, cet.9
Badroen, Faisal, Etika Bisnis Dalam Islam, Jakarta: Kencana, 2006.
Djakfar, Muhammad, Etika Bisnis Islam Tataran Teori Dan Praktis. Malang: UIN Malang Press, 2008.
_________________, Etika Bisnis Menangkap Spirit Ajaran Langit dan Pesan Moral Ajaran Bumi, Jakarta: Penebar Plus, 2012.
Departemen Agama RI, Mushaf Al-Qur"an Terjemah. Jakarta : Al- Huda Kelompok Gema Insani, 2002.
Departemen Agama RI, Alhidayah Al-Qur'an Tafsir Per Kata Tajwid Kode Angka. Penerbit: Kalim.
Departemen Pendidikan dan Kebudayaan Panduan Manajemen Sekolah, Jakarta, 1988.
Fauroni, Lukman. Muhammad, Visi al-Qur"an: tentang Etika dan Bisnis, Jakarta: Salemba Diniyah, 2002.
Haris, Abd, Pengantar Etika Islam. Sidoarjo: Al-Afkar, 2007.
Kasmir, Kewirausahaan. Jakarta: PT Raja Grafindo Persada, 2010.
Khalifah, Ippo Santosa. Andalus, Muhammad sebagai Pedagang, Jakarta: PT Gramedia, 2012.
Kadir, A., Hukum Bisnis Syari'ah dalam al-Qur'an, Jakarta: Amzah, 2010.
Komariah, Aan dan Djam'an, Metodologi Penelitian Kualitatif, Cetakan 4, Bandung: Alfabeta, 2012.
Moleong, Lexy, J., Metodologi Penelitian Kualitatif. Cetakan ke-33, Bandung: Remaja Rosadakarya, 2014.
Nawawi, Ismail, Fiqh Muamalah: Hukum Perdata Islam dan Perilaku Ekonomi Islam, Surabaya: Pustaka VIV Grafika, 2009.
Pusat Pengkajian dan Pengembangan Ekonomi Islam (P3EI), Universitas Islam Indonesia dan Bank Indonesia, Ekonomi Islam, Jakarta: PT RajaGrafindo Persada, 2008.
Qardhawi, Yusuf, Norma dan Etika dalam Ekonomi Islam. Jakarta : Gema Insani Press, 1997.
Raharjo, M. Dawan, Etika Dan Ilmu Ekonomi Suatu Sintesis Islam. Bandung: Mizan, 1991.
Shobuni, Asy-Syaikh Muhammad Ali al, Al-Tafsir Al-Wadhih Al-Muyassar, Bairut: Al-Maktabah Al-'Ashriyyah, 2007.
Sugiyono, Metode Penelitian Bisnis, Bandung: CV. Alfabeta, 1999.
__________, Metode Penelitian Kuantitatif, Kualitatif Dan R & D. Cetakan 21. Bandung: Alfabeta, 2014.
Zadjuli, Suroso Imam, Makalah Seminar Evaluasi Ekonomi Syari'ah 2005 dan Outlook 2006 di Ballroom Hotel Hilton Surabaya Diselenggarakan oleh CIEBERD, Surabaya: Universitas Airlangga, 2006.
Zubair, Charis, Achmad, Kuliah Etika, Rajawali Press, Ed. III, Januari 1995.
DOI:
http://dx.doi.org/10.19105/iqtishadia.v3i2.1083
Refbacks
There are currently no refbacks.
---
View My Stats
Iqtishadia: Jurnal Ekonomi dan Perbankan Syariah by
http://ejournal.iainmadura.ac.id/index.php/iqtishadia
is licensed under a
Creative Commons Attribution-NonCommercial 4.0 International License
.
Based on a work at
http://ejournal.iainmadura.ac.id.
---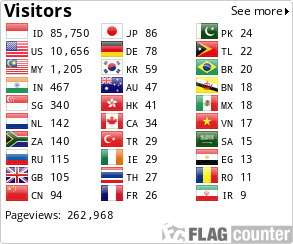 ---
ABSTRACT AND INDEXES