Dampak Keberadaan Minimarket terhadap Toko Kelontong di Pasar Klampis Kabupaten Bangkalan Madura
Abstract
This research was conducted to determine the impact of the presence of minimarkets on grocery stores in the Klampis Market, Bangkalan Madura. The emergence of modern markets such as Indomart and Alfamart can influence people's perceptions of decreasing turnover and the decreasing number of customers. This study uses a qualitative descriptive approach. The research location was conducted at several grocery stores around the Klampis market minimarket, Bangkalan Madura. The technique of determining informants in this study used purposive sampling. Data collection techniques in this study using Field Work Research.This study concluded that the existence of minimarkets caused the sellers of grocery stores to lose their customers and the income received also declined. However, this did not dampen the desire of grocery store traders to be able to compete with minimarkets, namely by providing basic necessities that were not available at the convenience store.
[Penelitian ini dilakukan untuk mengetahui dampak keberadaan minimarket terhadap toko kelontong di pasar Klampis Kabupaten Bangkalan Madura. Kemunculan pasar modern seperti Indomart dan Alfamart dapat berpengaruh terhadap persepsi masyarakat tentang menurunnya omset dan jumlah pelanggannya yang semakin berkurang. Penelitian ini menggunakan metode pendekatan deskriptif kualitatif. Lokasi penelitian di lakukan pada beberapa toko kelontong yang ada disekitar minimarket pasar Klampis Kabupaten Bangkalan Madura. Teknik penentuan informan dalam penelitian ini menggunakan purposive sampling. Teknik pengumpulan data dalam penelitian ini menggunakan Field Work Research. Penelitian ini menyimpulkan bahwa keberadaan minimarket menyebabkan para pedagang toko kelontong kehilangan konsumennya serta pendapatan yang diterima juga semakin menurun. Namun hal tersebut tak menyurutkan keinginan para pedagang toko kelontongan untuk dapat bersaing dengan minimarket yaitu dengan menyediakan barang-barang kebutuhan pokok yang tidak tersedia di minimarket.]
Keywords
Pasar Modern; Pasar Tradisional; Strategi Pemasaran.
References
Annisa Hadif Nst, Abd. Jamal. "Dampak Pasar Modern (Alfamart) Terhadap Usaha Pasar Tradisional Di Kabupaten Aceh Besar." Jurnal Ilmiah Mahasiswa (JIM) 3, no. 1 (2018): 59–67.
Ariyanti, Nel. "Analisis Perbedaan Pasar Modern Dan Pasar Tradisional Ditinjau Dari Strategi Tata Letak (Lay Out) Dan Kualitas Pelayanan Untuk Meningkatkan Posisi Tawar Pasar Tradisional." Jurnal Manajemen & Bisnis 13, no. 1 (2013): 18–29.
Dewi, Nirmala Mustika. "Resistensi Pedagang Terhadap Implementasi Kebijakan Relokasi Pasar Waru Sidoarjo." Jurnal Politik Muda 4, no. 1 (2015): 126–136.
Hidayah, Ayu Ulfiani. "Analisis Pelaksanaan Relokasi Pedagang Kaki Lima Di Pasar Simpang Padang Duri Kecamatan Mandau Kabupaten Bengkalis." Jom Fisip 4, no. 1 Februari (2017): 1–10.
Iffah, Melita, Fauzul Rizal Sutikno, and Nindya Sari. "Pengaruh Toko Modern Terhadap Toko Usaha Kecil Skala Lingkungan (Studi Kasus : Minimarket Kecamatan Blimbing , Kota Malang)." Jurnal Tata Kota dan Daerah 3, no. 1 (2011): 55–64.
Kasman Rasyidin, T. Zaulham. "Dampak Kemunculan Pasar Modern Terhadap Pedagang Pasar Tradisional Di Kota Banda Aceh." Jurnal Ilmiah Mahasiswa (JIM) 2, no. 1 (2017): 125–133.
Lestari, Andi Adinda. "Dampak Keberadaan Pasar Modern Terhadap Eksistensi Pasar Tradisional Di Kota Samarinda." eJournal Administrasi Bisnis 6, no. 2 (2018): 700–712.
Masyhuri, Mahmudah, and Supri Wahyudi Utomo. "Analisis Dampak Keberadaan Pasar Modern Terhadap Pasar Tradisional Sleko Di Kota Madiun." Assets: Jurnal Akuntansi dan Pendidikan 6, no. 1 (2017): 59–72.
Prabowo, Aan, and Heriyanto. "Analisis Pemanfaatan Buku Elektronik (E-Book) Berbasis Web Oleh Pemustaka Di Perpustakaan Sma Negeri 1 Semarang." Jurnal Ilmu Perpustakaan 2, no. 2 (2013): 1–9. http://ejournal-s1.undip.ac.id/index.php/jip.
Relokasi, Dampak, Pasar Wedi, and Ardhi Yunandar. "The Impact of the Relocation of Wedi Market Against the Socio- Economic Conditions of the Traders in the Wedi Market" (n.d.).
DOI:
http://dx.doi.org/10.19105/iqtishadia.v6i2.2448
Refbacks
There are currently no refbacks.
---
View My Stats
Iqtishadia: Jurnal Ekonomi dan Perbankan Syariah by
http://ejournal.iainmadura.ac.id/index.php/iqtishadia
is licensed under a
Creative Commons Attribution-NonCommercial 4.0 International License
.
Based on a work at
http://ejournal.iainmadura.ac.id.
---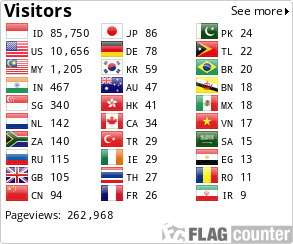 ---
ABSTRACT AND INDEXES